Belinda Carroll's Clown Car Album Tour
Oct 7th, 2021 - 8pm & 10pm
Coming to the Talent Club on October 7th (for 2 back-to-back shows) – Belinda Carroll's Clown Car Comedy Tour. 
Early Show – 8pm // Late Show – 10pm
Belinda Carroll is the founder of Portland Queer Comedy Festival and has performed colleges such as U of O, WSU, and PSU, Clubs such as Cobb's Laugh Factory LB, and Club Comedy Seattle. She's a party in person form.
To much acclaim, she founded Portland's Queer Comedy Festival in 2017.
As, The New York Times wrote about Carroll, "While I had a lot of fun playing marijuana tourist, [the show was] my most enjoyable experience…the sets were punchy enough on their own. No controlled substances necessary."
In addition to writing for publications and anthologies such as the LAMBDA Award Nominee Persistence of Desire, Cracked.com, PQ MONTHLY and Portland Mercury, Carroll has been running an 8-year long NYC/PDX produced comedy showcase SMUT and Kickstand Comedy's Queer Late Night Talk Show, Outlandish! while also headlining colleges, casinos and opening for Erasure, Nico Santos, Erin Foley, Dana Goldberg, Jason Stuart, Sandra Valls and Kids in the Hall 's Scott Thompson.
In March 2020, she was honored by Oregon with the Oregon State Woman of Achievement award.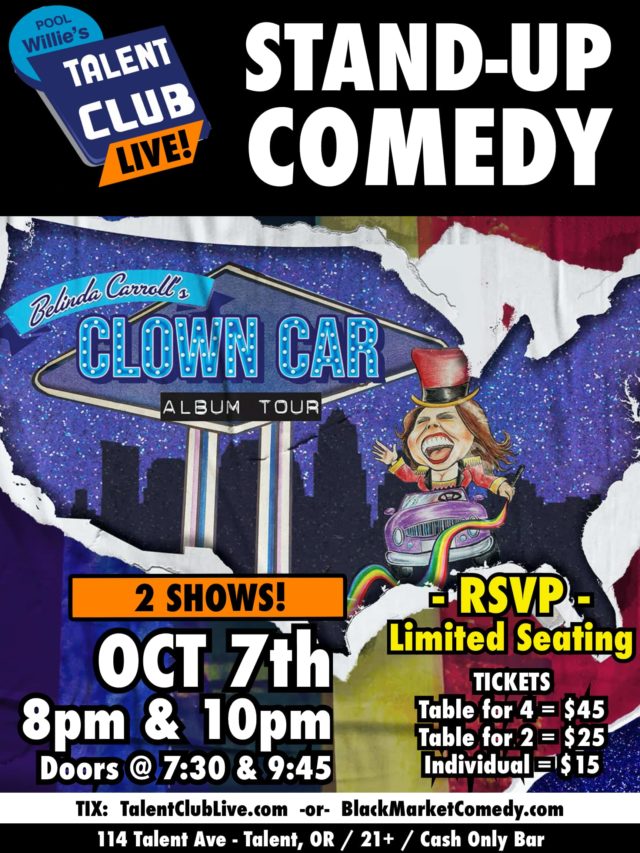 Oct. 7th - EARLY SHOW (8pm)
Oct. 7th - LATE SHOW (10pm)
Additional tickets for $15 will be issued at the door based on room capacity.
Want to pre-buy a table for an odd amount of people? Email us with your request: comedy@blackmarketcomedy.com